Benefits for you
Drillster, learning with you. We have put together a rundown of all the benefits. We have split them up into benefits for end-users and benefits for organizations who use Drillster for employees and students.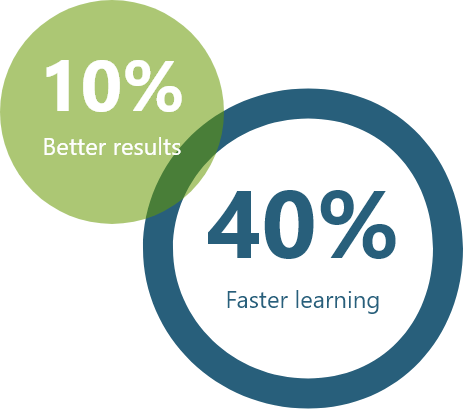 Benefits for your organization
A higher ROI on your learning program.

40% more efficient and 10% more effective learning*.

Demonstrability of proficiency levels year-round.

Cost reduction.

Less and better face-to-face training.

Better test results and fewer mistakes and failures in the workspace.

Independency.

Happy employees.

Your permanent education fixed.

One app covers all: learning, testing, retaining.

Location-based learning.

Stand-alone or integrated with your existing LMS.

The same method for all countries.
*Utrecht University has conducted research on the effectiveness of the Drillster app

Time
You only learn what you really find difficult. What you already know, Drillster repeats less often. That saves you a lot of time. Time that you can spend on things that are important to you. Very efficient!

Better results
The Drillster method has been developed in such a way that you can achieve maximum results. Your brain has to work in such a way that the learning effect is optimal. In this way, you continuously get the best out of yourself. Testing is no longer a problem. Super effective!

Measure made training
The app works adaptive. It learns from your answers. It matches your tempo and questions to your learning needs. Just before your knowledge is about to decline, you get a notification to brush up. Measure made for you.

Flexibility
You are probably busy, which makes it hard to find time for learning. But you spend quite a bit of time on your smartphone or tablet, don't you? Wouldn't it be convenient to quickly answer a few questions? At home on the couch, during a break at work, or on the train ride home? Nice and flexible.

Self confidence
You can keep track of your current level 24/7 to see what you need to work on. These insights into your level now and in the future will give you ease and self-confidence, making you always ready for any test or challenge. You are in control!

Ease
Sometimes studying is a necessary evil. We want to help you make learning as easy and convenient as possible. We consider it our challenge to enable you to get the best out of yourself in the shortest possible time span. And as effectively as possible!
"The insight in your own proficiency gives you confidence. You know that you're ready for any kind of task or test!"