#10YearsDrillster: From intern to part of the furniture
Blog / Nouvelles | 02-12-21
Justin Wilkes is the whizz kid here in the Drillster gang. Since 2018, Justin has been rolling into work on his mini skateboard to do his internship…. or to work…. or to freelance. It doesn't matter what his exact role is, the front-end developer is always there. We asked him about his experiences in recent years.
Tell us, how did Drillster come your way? 
I came across Drillster in early 2018 through an IT recruiter. I came for an internship assignment later in the year, but I started immediately as a working student. Although my IT studies at the HU University of Applied Sciences Utrecht focused on backend development, I was able to work at Drillster as a front-ender. That worked out well, because I actually like the front-end much better. They are visual projects, so you see the results immediately. When the actual internship period started, I went from being a part-time working student to a full-time intern. At the time, the front-end team consisted of just Thomas, Christian and myself. Because of the small team, the work was diverse, but my focus was on updating the web components and developing a brand new drill editor. It was up to me to make the new editor better, prettier and more intuitive for the customer.
After your internship, you continued working, right?
I liked it so much that I stayed on as a working student after that internship. I continued developing the new editor and did a lot of other things too, of course, like developing a new mobile app.
When the time came for me to do a graduation internship, I looked around at other companies, but actually, I didn't want to work anywhere else. So I asked Thomas if he had a good assignment for me. And yes, he did. During that second internship, I started working on a content scanner: a tool that allows you to scan learning content with your smartphone, which is then immediately converted into a drill. It can save clients a lot of time. I had to learn new technologies to make this happen: a cool project!
Graduated! Time for something new?
You mean was I done with it then? No, I never left and am now a permanent employee. I like the team way too much. Of course, it's hard work, but the atmosphere is very relaxed. All my colleagues are nice, everyone is always willing to help and I love being in the office. So even though I've been changing roles for years now, I'm now part of the team and won't be leaving for a while. There are still plenty of fun things to develop and lots to learn. There are also great projects for future interns, where you work with the latest technologies. I would obviously like to help them make their time here fun and meaningful. So I'll be at Drillster for a while yet! »
Fun fact: When our colleagues and interns graduate, they get rewarded!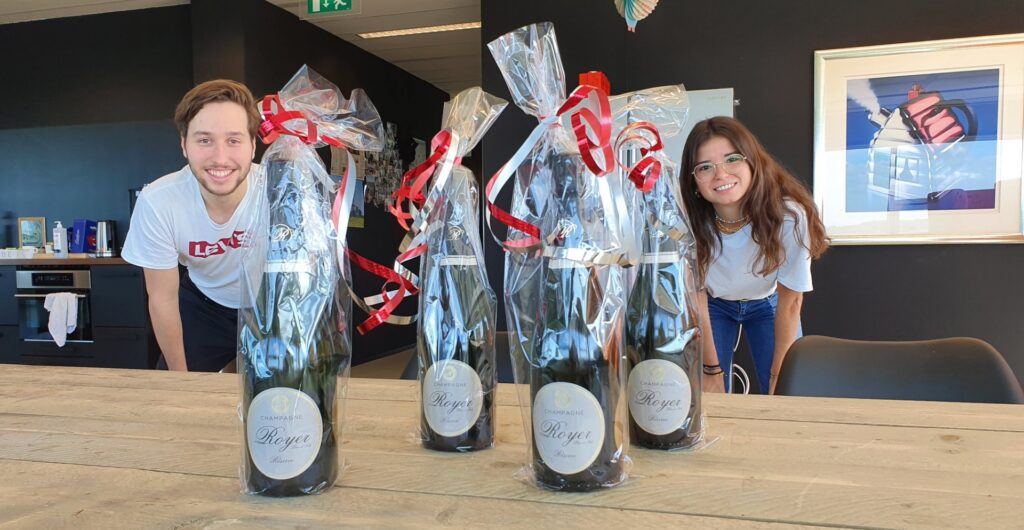 ---
Check out our #10YearsDrillster posts and stay tuned to see and read all of our stories!