We previously announced that we have rebranded the Drillster corporate identity. You may already have visited the beta version of our new website, or you may have missed it if you use Drillster within your learning management system. Please read the below explanation in case you have not yet experienced the new Drillster.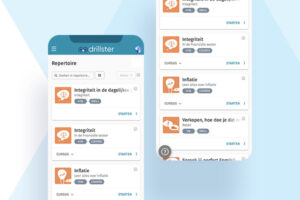 The Drillster idea was born eight years ago. A lot has changed since then. The technology we use in our application develops constantly. And while the Drillster application and company grew, nationally and internationally, our brand style remained the same……
New insights
That is why we did some "soul searching" and took a closer look at the Drillster values. An inspiring process that gave us great insights. We are not just technology. We are a methodology, a different way of learning. The Drillster way of learning helps you to learn, reinforce and retain knowledge faster and easier. So that you can reach your true potential, and perform in the best possible way!
Learning is our common thread
We all learn each and every day. Learning is in our DNA. At Drillster we also learn constantly. Development gives us a real kick. We always try to make you and your colleagues learn more efficiently, effectively and easily. We learn from our customers, our users and from each other. Our adaptive technology adapts to the real knowledge needs of the user and thus learns with you as well. We learn with you, for you and from you!
We are proud to present to you the new, fresh, and clear Drillster style that you can see on our  website, in the web application and of course in a fresh logo with a new pay-off:
As of today, you can experience the new Drillster identity when visiting our website and when using our web application. We are still working on the rebranding of our mobile apps. This will soon become available so that you can enjoy the new Drillster look and feel using your desktop, laptop, tablet or mobile phone.
Enjoy!