App update on March 31st
Maybe you've already heard that we are working on a brand new Drillster mobile app. Good news. Our developers have been working hard and the new app is almost ready to go! 
On March 31st, the new and improved app will go live for both iOS and Android. It will replace the current app. The app uses the latest technology, has better user experience and an improved look & feel. It also comes with some brand new features. You have one job: just log in again and that's it! We'll take care of the rest.
Check out what's new:
Home: a home screen with your objectives and recently practiced drills.

QR codes scanner: use the QR scanner for logging in, joining groups and sharing drills.

Inbox: notifications screen with your latest notifications and messages.

Practice sets: Allows you to combine several drills of your choice into a personal practice set. The questions from multiple drills will alternate. This makes drilling harder, but the learning effect stronger! Challenge yourself and give it a go.

A simple shortcut to join a group directly from your repertoire.

If your school or employer has given you access to catalogs, they will appear in your subscriptions automatically.

Last but not least: dark mode. Because, what's life without dark mode?
What do you have to do?
Nothing. The current Drillster app will be replaced with the new one. Just log in again with your password or connection code and practice your drills like always. And enjoy the new features of course! If you forgot your password, click 'forgot?' next to the password field to request a new one automatically.

If your phone doesn't update apps automatically, make sure that you update the Drillster app yourself to get the best Drillster experience. You can do this in the settings of your phone. If you access the app through a company-managed device, your employer will update the app for you.
A little sneak peek: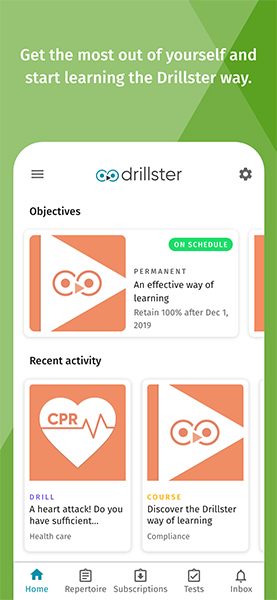 Changes only apply to the mobile app. The desktop version will remain the way you are used to.