You may have noticed it already in beta, Drillster has got a renewed editor! It's been a wish for a long time to improve our editor to make it easier and a lot more intuitive to use. So we're glad to announce that our new Drill editor is ready to launch! To see at a glance what the most important benefits are, we have listed them for you:
Markup without HTML: Marking up your text has become a lot easier. Earlier you had to use HTML, for instance, to make text bold or italic. That's history now. You can use the editing features, just like you're used to in Word or Docs.
Sneak preview mode: we've got a preview mode! So now you can really check and see how your changes and adjustments look like before you release your new Drill or Story.
Version history: anyone working on Drill questions or a Story can check earlier versions to see what has changed.
Special settings visible per Drill question: you can now adjust or check the special settings per Drill question by clicking on the small "cog" in the right corner.
New look and feel: and of course, the new editor is set up in the new fresh and bright Drillster look and feel!
There has been put a lot of effort into the new editor by Justin Wilkes. Justin is a student from the University of Applied Sciences Utrecht, in the field of Software Information Engineering, who's also been working for Drillster. He took it upon himself to improve the editor for the last few months. We believe he did a great job. We really love working with new talent so we can learn from each other and find out new best practices. So a big thanks to Justin.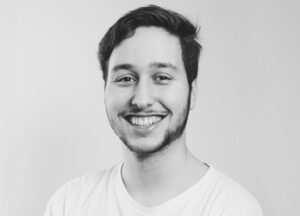 « It was a very educational and fun process to enhance the editor and really make it more easy to use. »
And of course a big thanks to all the Instructional Drill Designers who create the learning content with our customers. They have provided us with important feedback and suggestions that were very helpful in the enhancement process. We love to co-create and learn with you!
Despite all the attention and effort put into the new editor, a bug can always occur. If so, please let us know at support@drillster.com as soon as possible so we can fix it and make sure you can go on creating greet Drills! Enjoy!
Drillster. Learning with you.