Drillster will be exhibiting at the EXPOELEARNING event taking place in Madrid – IFEMA – on March 5th and 6th. EXPOELEARNING, specialized in e-learning, ICT, and HR, shows us the present and future of the latest trends in online training. This year, the central theme of the event will be about Artificial Intelligence applied to e-learning.
Meet Drillster
We welcome you to our booth EL46 and will be happy to talk with you about how adaptive learning can add value to your organization. How can knowledge, awareness, and skills be anchored and retained to ultimately work smarter, better, safer, more efficient, and reduce costs? Join the Drillster team for more insights.
We will introduce Luc, the virtual Drillster assistant we have created using chatbot technology. Users will be able to practice learning material in their favorite messaging app, like WhatsApp, Facebook messenger or Hangout. We live in a mobile-first world after all. Users will be able to learn, reinforce, and retain knowledge wherever and whenever they want, without changing apps. In this way, learning becomes an integral part of our lives.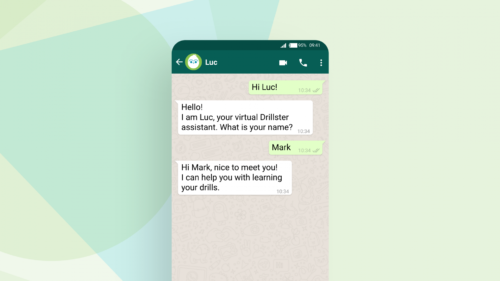 Presentation March 5th – 12.10-12.30h – Digital Corner
On March 5th, Esmeralda Gutiérrez, Responsible for sales in Spain at Drillster, will give a presentation about how adaptive learning methods can anchor and retain crucial knowledge. Learning should no longer be an offline, ad-hoc event and can be closer embedded in our daily activities. To tackle this, Esmeralda will outline how the combination of a smart algorithm neuroscience, AI and chatbot technology can tailor any learning program to the individual to be more integrated in our workflow and daily lives. Join the presentation on the 5th of March, at 12:10 hours in the Digital Corner to see how this can be accomplished.
Read more about the event here.