At Drillster we find it important to get out of our working zone and relax from time to time. So we organize little team events three or four times a year. We organize it in turns and that results in very original and diverse events. From a finger licking good BBQ workshop to a real jail escape experience! But this time we wanted to give something back to society. We wanted an event with a cause, a good cause…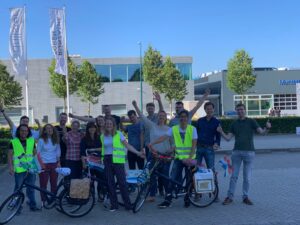 So as Drillster team, we've built three bicycles for Africa! This is how it works: three bicycle frames are displayed in our own office space, one per team. Through an auction with fake money you can buy interesting bicycle lots, and with a little negotiating you can collect all the parts you need to assemble your team bicycle. The money you have left or earned by solving riddles and puzzles, you can spend on nice accessories such as lights, flowers, flags, bicycles bells, etc. to decorate your team bicycle when it's finished. But during the negotiation and puzzling you still have to assemble your working team bicycle in time. In short: teamwork, brain work, technical skills, and a competition element combined with a lot of fun. Result: a test ride on your own bicycle assembled by you and your team members. Later this year the bicycles will be shipped to Africa and donated to small projects that help local entrepreneurs.
The frames and parts are all recycled. They come from old bikes that are disassembled by people at a sheltered workshop from the foundation Tools to work in Teteringen, Holland. 
Want to know more about this event or also want to build a bicycle for Africa for your team? Check https://bouweenfiets.nl/ or https://www.toolstowork.nl/.
Drillster. Learning with you.